PA WALKERS CLUB
EDGEWOOD ELEMENTARY SCHOOL YARDLEY,PA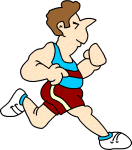 We started a walkers club at our school to encourage students, teachers and parents to exercise in one of the simpliest of ways, walking. The object is to get as many people walking as possible and to compile the highest possible number of cooperative miles. The project began in Physical Education class. We used our warm up time to walk or jog around the outside of the gymnasium. Each lap in the gym is equal to 60 yards, so it takes quite a few to add up to even one mile. The 3rd, 4th & 5th graders work as a team to add the miles to our total. It is a lot of fun exercising, especially since we get to talk to our friends while we go around. Our initial goal is to get to the other side of our GREAT STATE of Pennsylvania !!! We then decided to try and make some stops along the way as we will discuss shortly. Together though we set off on the grand mission.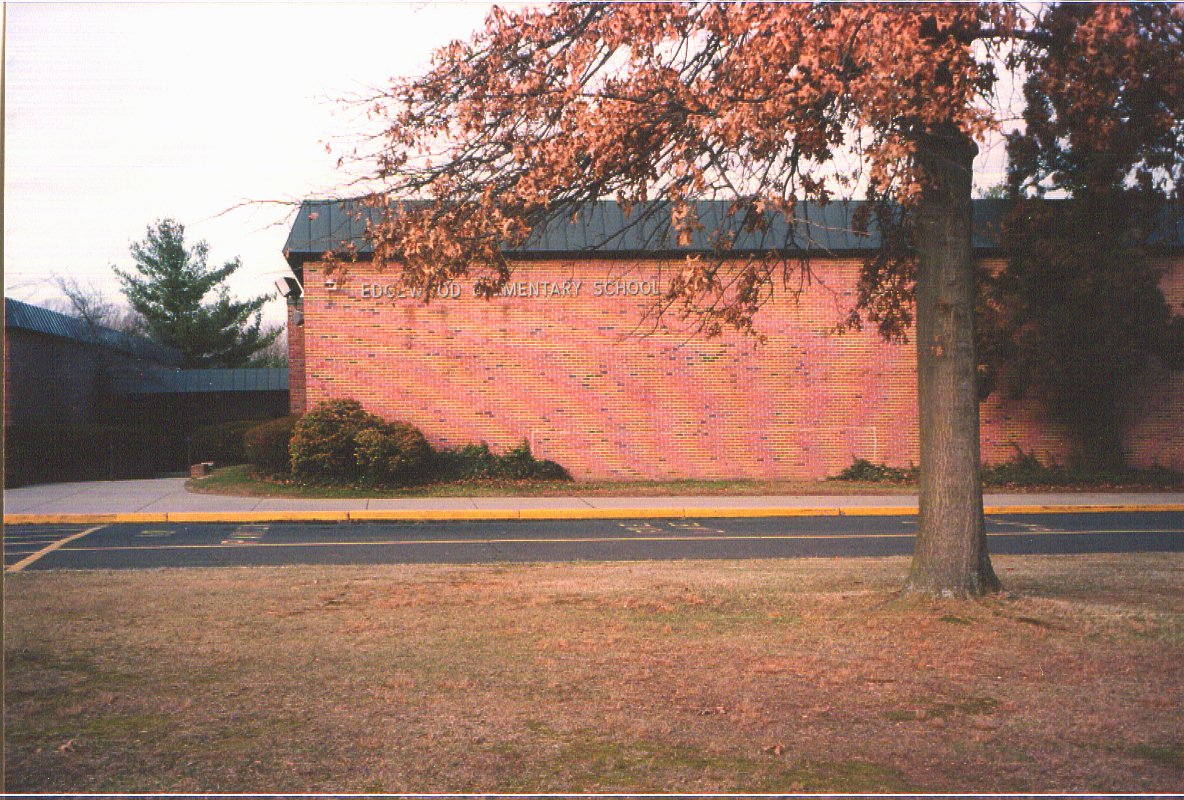 This is a picture of the main entrance to our school. It is made of brick and was built more than 30 years ago. We had a party to celebrate !!


We decided to call the club, "The PA Walkers" because we live in Pennslvania and because our 4th graders study it in Social Studies. Mr. "G" our P.E. teacher talked with some teachers in other parts of the state and asked if the would like to walk and send letters back and forth and talk about our progress, they said "YES !" These schools were now part of the plan. We plotted our course of travel. How could we "visit" all these other schools? What would be the shortest and fastest route to follow. As we decided on the path, Mrs."E" our fabulous art teacher made us a HUGE wall map of PA. We put it up outside the gymnasium to keep track of how far we would get. The librarian Mrs."M" our computer teacher Mrs. "P" were a GREAT BIG help, getting and receiving e-mail, tracking our distances on the Yahoo. map site, and even supplying the kids with the books they would need later for the special PA projects.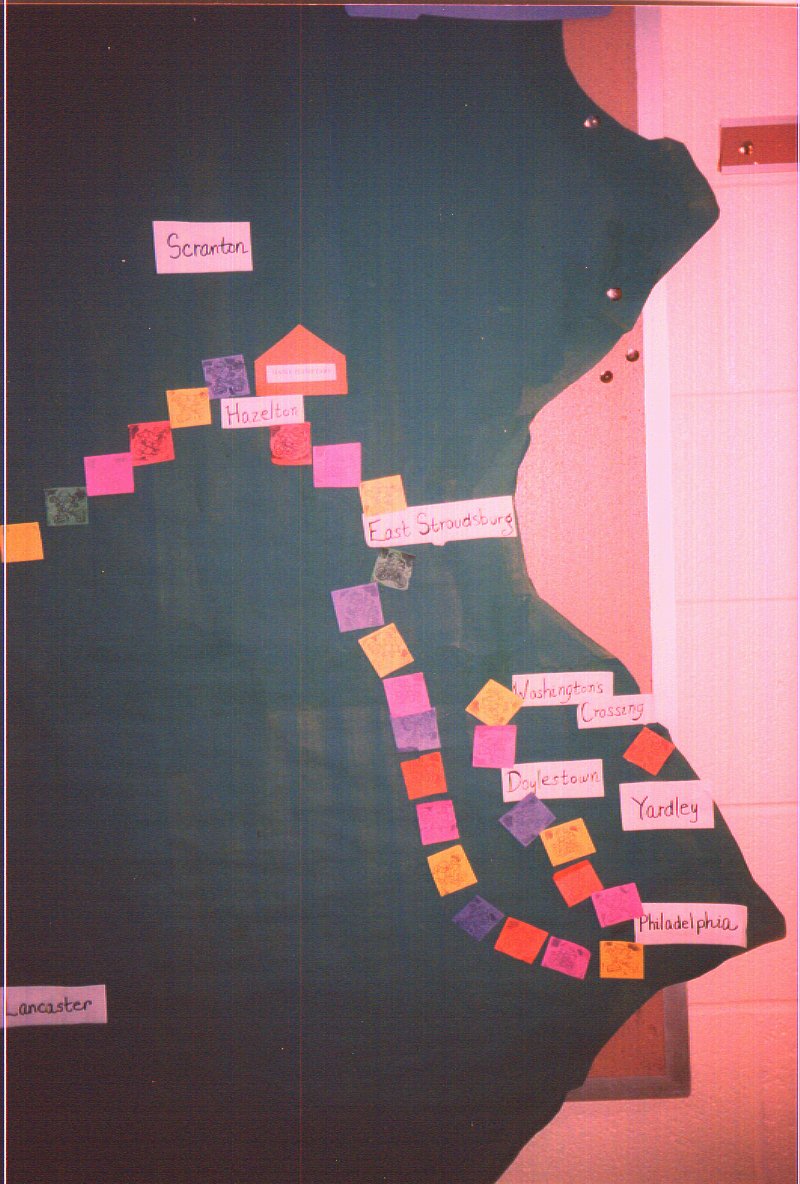 This is the map once we were on our way !!! It starts out at Edgewood School in Yardley. We then traveled to Washington's Crossing(PA side) and took in some of the historic sites. Next we stopped off in Doylestown, this is the Bucks County capital and also were the courthouse is located. From Doylestown we logged our "FIT-titious" miles toward the home of the Liberty Bell, Ben Franklin, Betsy Ross, Independence Hall and loads of other great historic landmarks. We are speaking of none other than Philadelphia, the "birthplace of the nation!!!" In conjunction with the project the 5th graders even had a a trip to Philly. Mr. "R's" 4th grade AMP classes converted all those laps from yards to miles and then came up with the totals.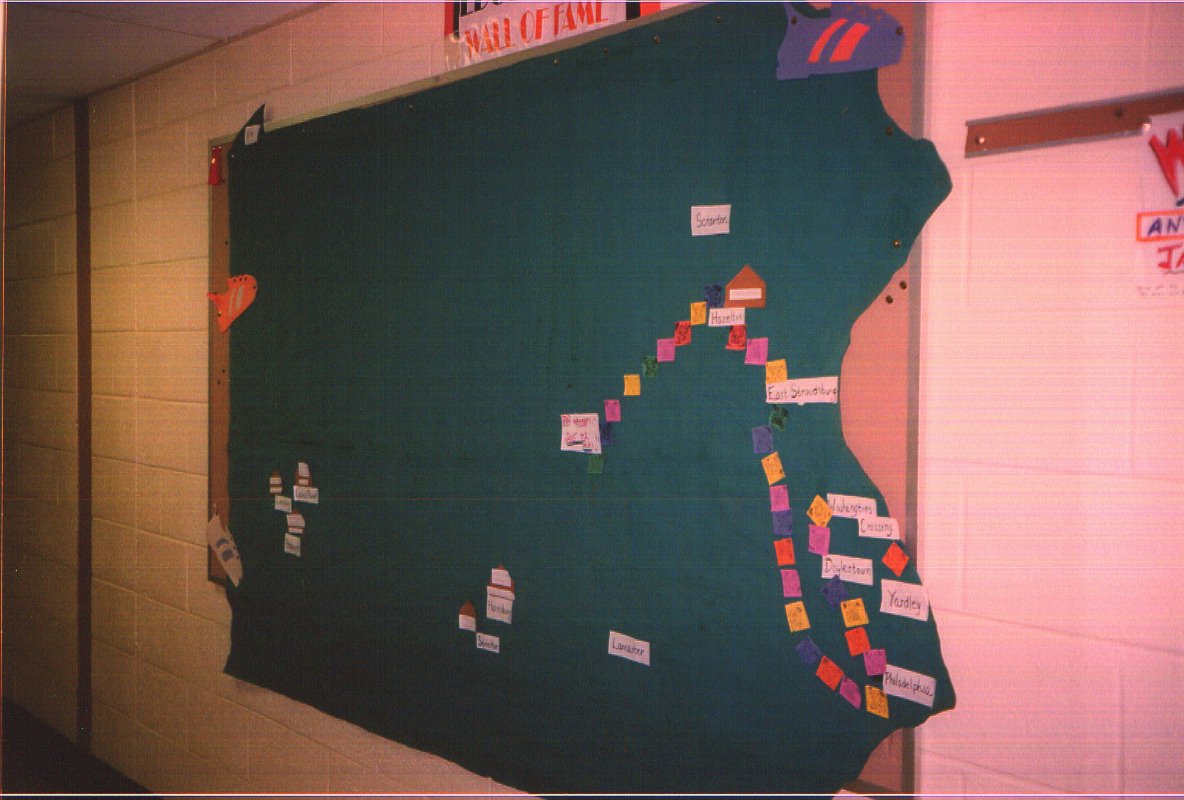 Here you can get a little better view of the entire map. In this picture we have now made our way to the Pocono Mountains and East Stroudsburg area. We past the century mark recording over 100 miles !!! We then made our first stop a little farther into PA in Hazelton at Hazle Elementary School. We sent pictures and letters to the kids to tell them a little about our school. After Hazleton, we set off for Hershey, PA home of some of the best candy around. Hershey, PA is the home of chocolate candy and an amusement park. It is also just up the road from another school we were working with on the PA Walkers club. We sent some more mail out to them and also started to get some ourselves. We were really cooking now, and had logged more than 205 miles thus far on the journey!!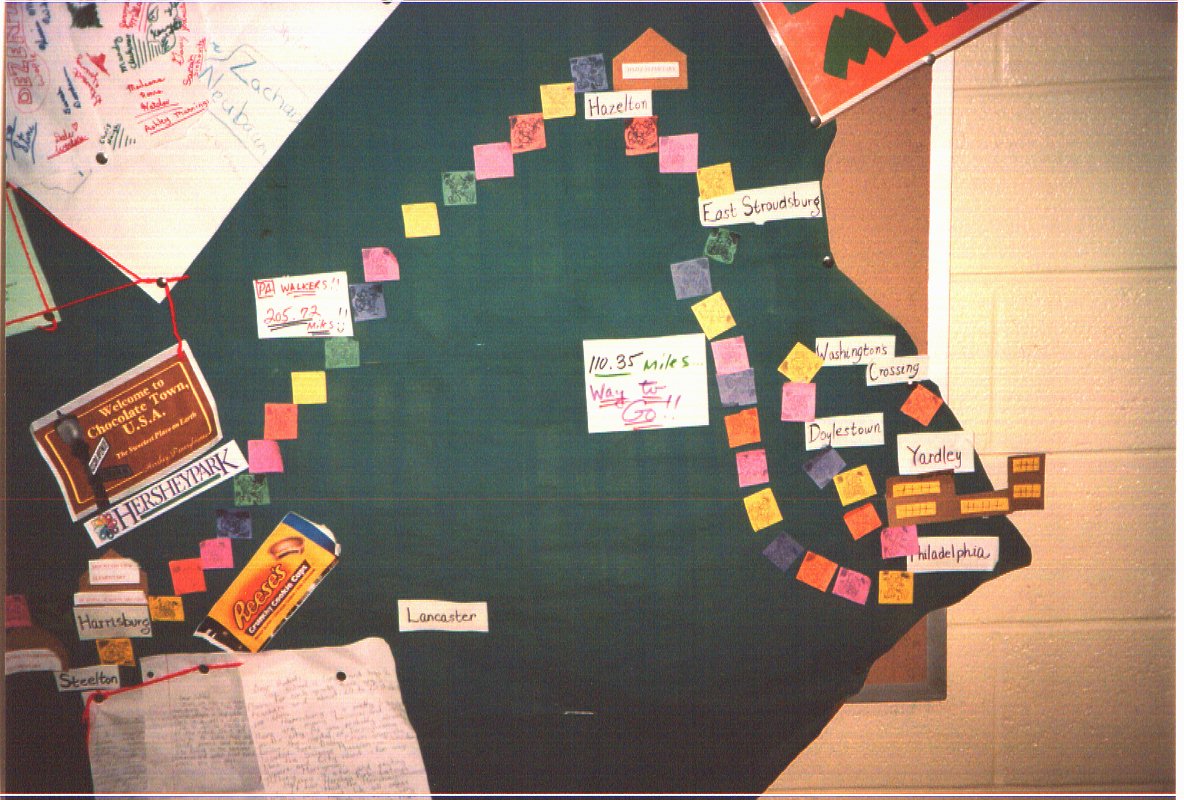 If you look carefully on the map you can see some of the mail that we had received from the other walkers club schools. It was really neat to get mail from other kids so we passed it around for everyone to see and then we attached it to our now very colorful and crowded map. Harrisburg and Steelton were the next points we would reach. There were several schools in this part of PA that we had been talking with and walking. We even received a set of autographs from one school that was on the shape of the state, pretty wild. Steelton-Highspire was one of those schools and they sent us some really great mail several times during the activity !!!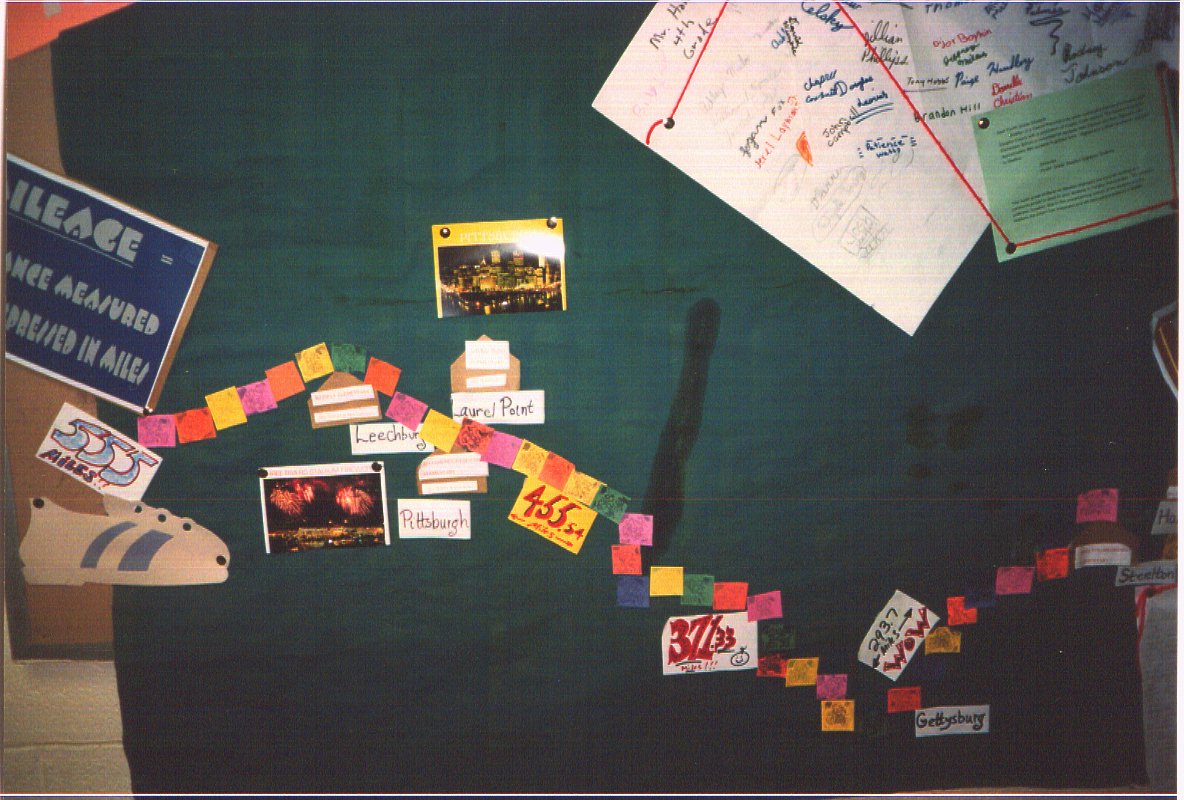 Another set of schools which sent us loads of great mail were near Pittsburgh, home of steel mills, and the "mighty Pittsburgh Steelers;" Weinels, Hyde-Park, and Allegheney Elementary's. These schools sent us a Flat Stanley that was life size.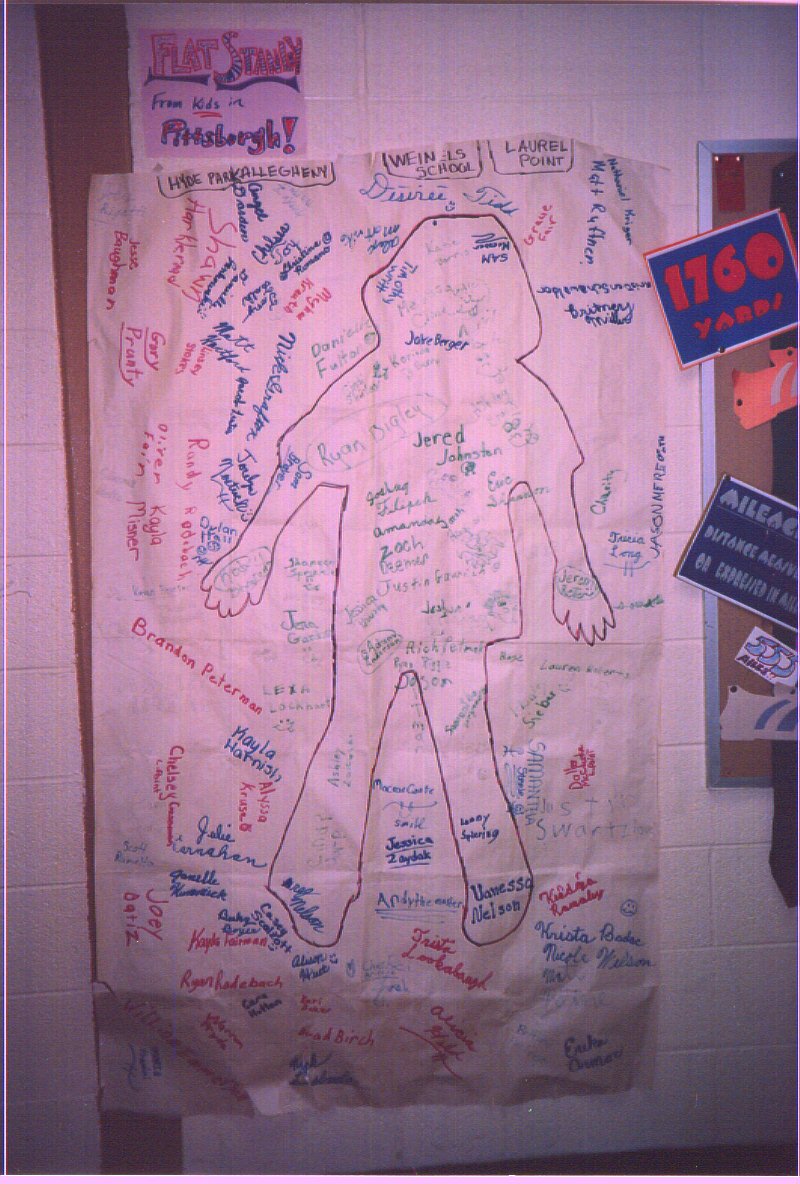 Their kids sent us post cards of the city and area where they lived. We found out how many displaced " Pittsburgians" we had in our school. It was a HUGE number, in fact they could have taken the school over if they wanted to do it. It was always fun to get mail from these students, we hope they liked what we sent to them.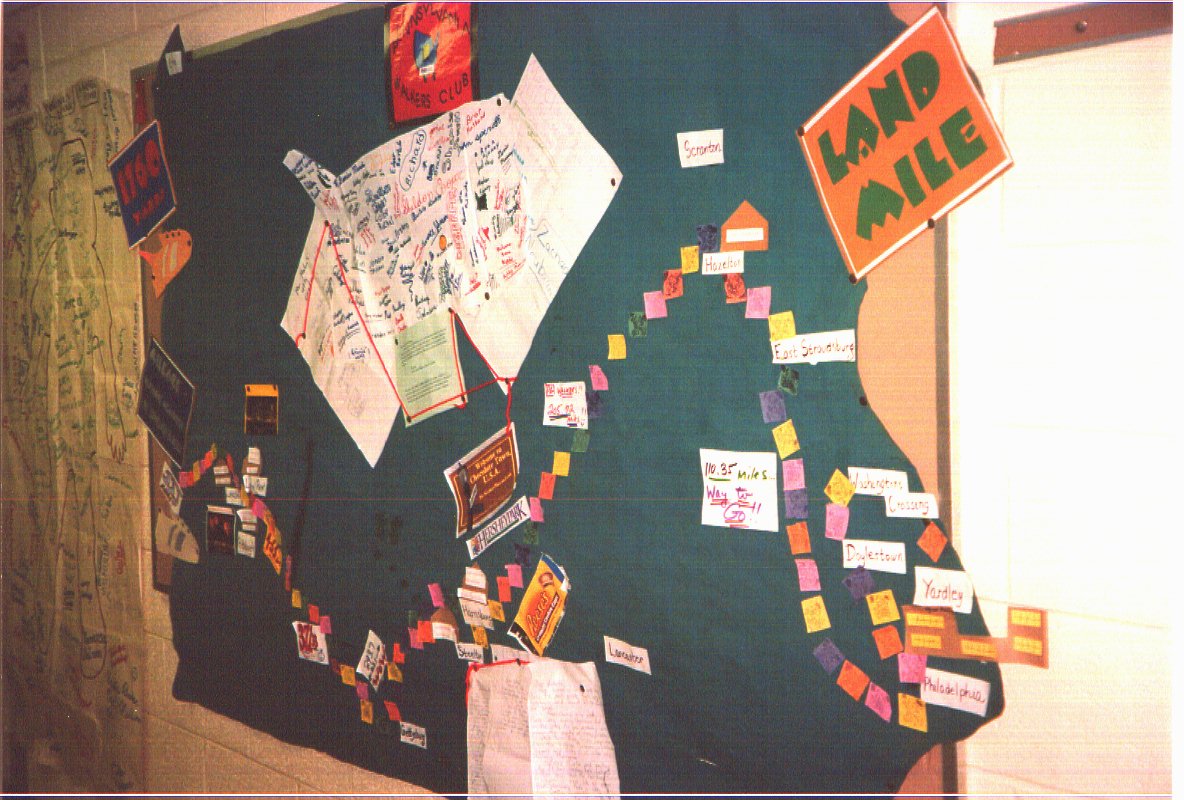 The 4th graders sent special projects on Pennsylvania, Philadelphia, and Bucks County to all of our PA Walking Club buddies. The projects included things like information on the state, our biggest local city(Philadelphia) and our local area. We also had some fun games and activities for the students to enjoy. Finally we took class surveys on some of our favorite and least favorite things. We tried to share a piece of our school with the others and they did the same for us.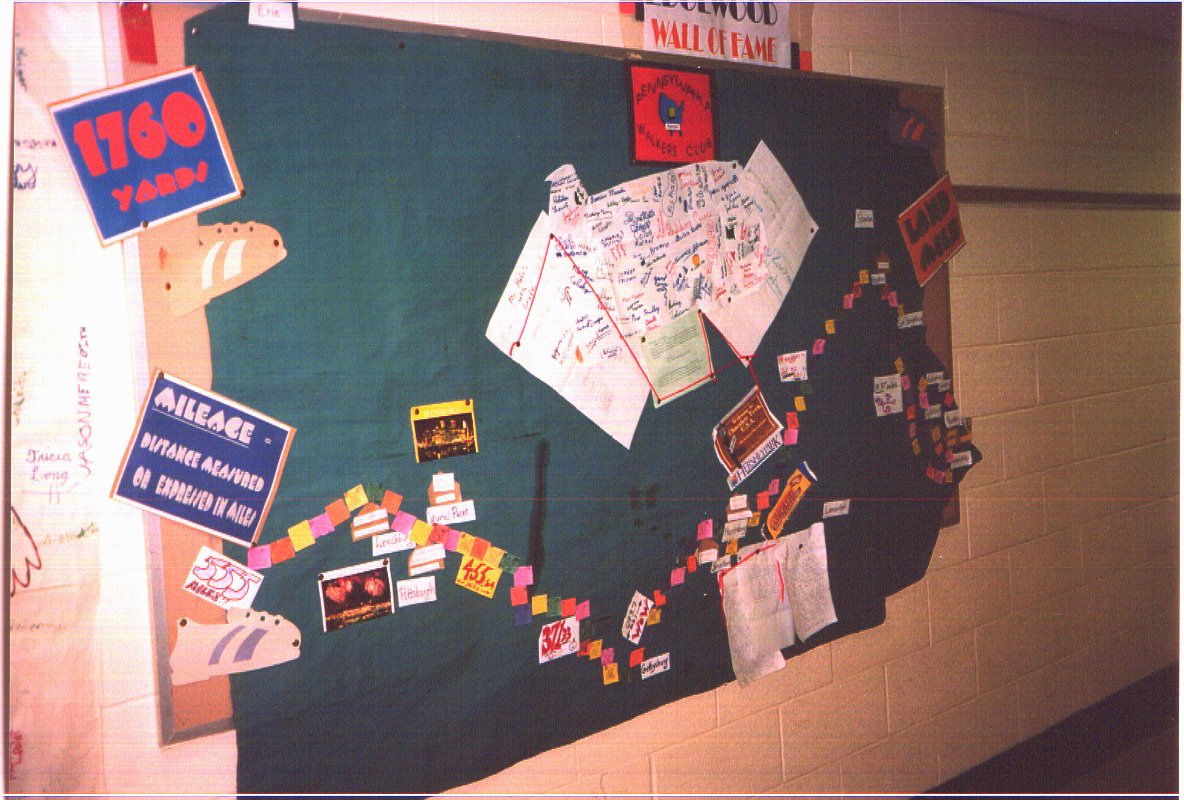 When all was finally tallied at the close of school last year, we had completed 555 miles and just crossed the state line into Ohio!!! Great job by everyone involved. we plan to do the activtiy again and hope we can work with the same schools next time. Remember, keep exercising... Walking is not that hard it is good for your heart and body,and can be lots of fun, we had tons !!!
RETURN TO MR G's PE page:
Go to Gym Shorts for more Pa Walkers and stuff...: Check out our other exercise club